JOTA-JOTI
What is JOTA-JOTI?
JOTA-JOTI (Jamboree On The Air – Jamboree On The Internet) is an international jamboree taking place around the world simultaneously. It is organised by WOSM, the World Organization of the Scout Movement. Scouts from all over the world communicate over the Air (amateur radio) and the Internet using any technology locally available. There are loads of different ways to communicate, including text-based chat, voice chat, video chat, emails, blogs, and social media networks. JOTA-JOTI allows you to build friendships around the world and to find out more about their culture and scouting life.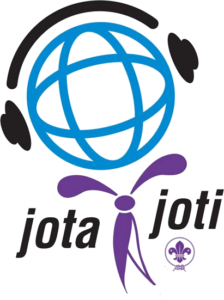 ScoutLink has been the WOSM-approved way of participating in JOTA-JOTI for over a decade, and to recognise this we are a Trusted Partner of the World JOTA-JOTI Team. Thousands of Scouts & Guides come to ScoutLink every year during JOTI. They come from different countries, scout groups, ages, nationalities, and cultures. This is a great opportunity to swap experiences, make new friends, and to learn more about Scouting and Guiding all around the world.
When is it?
JOTA-JOTI takes place on the 3rd weekend of October. Next JOTA-JOTI will take place 18 to 20 October 2024
How can I get involved?
It's very simple – just choose one of the options below:
As an optional extra, you can register on the JOTA-JOTI portal provided by WOSM (jotajoti.info). This isn't necessary to take part in JOTA-JOTI, but it will give you a Jamboree IDentity (or JID). This is a special code which is used in a number of games and activities and can be swapped with other users as a way of logging how many people you've talked to. You can find out more about JIDs on the programme page (jotajoti.info/programme/). The WOSM website also has activity packs that you could incorporate into your JOTI event.
Planning an event?
If you are planning an event over JOTA-JOTI, we have created a useful guide that you can use (scoutlink.net/guides/joti).
More information
Check out the JOTA-JOTI official world scouting website (jotajoti.info). You can also email help@scoutlink.net directly or using our contact form.